Customer Reviews - SunSun HW - 603B External filter / Canister Filter / Outside Filter / Nano Filter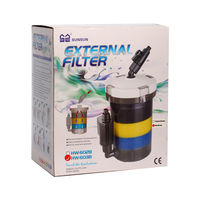 SunSun HW - 603B External filter / Canister Filter / Outside Filter / Nano Filter
Devendra Mahindrakar
on 19.06.2018
Very nice Product can also add additional media, Delivery of Product is very fast, Seller also reply very quickly, Price is very competitive.
Sahils Advice
on 11.07.2018
Hey Most ideal for bare bottom tanks of 100-120 Litres. This is a quick upgrade for all those who are on Hang On filter or Top filter or Internal Filter. Sahil's advice Has many advantages compared to all the above filters. 1) The filter comes with filter and pump. The earlier model HW 603 was without the pump 2) You have best filter media inside. Three different types of Sponges. Each sponge with different density. Which allows water to filter well and also allows good bacteria to culture properly. You will have a good crystal clear water always. 3) You dont have to dirty your hands cleaning the filter every week or 10 days. Once you fix this filter, you need to open the filter only once in 2 months. But yes, keep checking your bioload. 4) Will last a good life. And spares are available at easypets.in Do not wait. This is a good opportunity to buy this product.
Vijai.K
on 18.07.2018
Awesome one ... My experience with this product s very good .. whenever my aquarium gets looking cloudy .. I do a 25% water change .. before I bought this product I had a thought of doing a water change to my aquarium last Sunday ... But after I fitted this n my 20 gallon tank .. I didn't see any result for 02 days .. now it's the fourth day I see my aquariums cloudyness disappeared and it looks like I don't need to change my water for another 2 weeks or so ... Superb product .. Thanks easypet for this product suggestions by your WhatsApp executive and for a super fast delivery of the product ..